Olympian Carries the Torch for Florida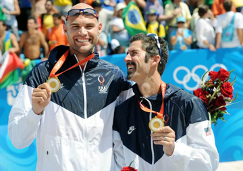 Phil Dalhausser, A.K.A. "The Thin Beast" has been all around the volleyball from his first Olympics in Beijing to the most recent in Tokyo, which is his last. Usually, people end their careers with a bang, but he decided to start with a bang and end with a spike across the net. In 2008, he qualified for his first Olympics, taking home the gold medal with his former volleyball partner, Todd Rogers. This year Dalhausser fought with COVID-19, having to be tested more than 10 times once he arrived in Tokyo, passing each test with a negative. Despite feeling like the cotton swab became a part of his nose, he grabbed COVID-19 by the head and served it to the opposing team, scoring a point for him and his most recent partner, Nick Lucena. 
Since his Senior year in high school to 2021, Dalhausser has proven himself to dominate the sport of beach volleyball very nicely, especially given the fact that some would say he started quite late. "I started playing indoor volleyball my Senior year in high school, and our coach happened to be a beach player who took us down to the beach for some practices," Dalhausser explained. "I became obsessed! That's all I wanted to do. After graduating college I didn't want a job because I had this itch to pursue beach volleyball," he continued. 
That itch turned into hard work and dedication leading to a gold medal draped around his neck. Now, what is the key to not only his successful career, but also the work ethic and dedication he holds for the sport? Could it be his go-to meal before his matches? "I wouldn't say I have a go-to meal, but I definitely eat something light. I don't like jumping around on a full stomach," Dalhausser described. What about the trophies I'm sure he has displayed in every room of the house? "My wife has displayed a few of the cooler ones around, but most of them collect dust in a box," Dalhausser said. I'm out of ideas for what led to his success, but for all of the young athletes that want to pursue their sport as a career, I'm sure he just gets it from eating all his vegetables and a good night's sleep. "I would say give your dream a shot; do everything you can to 'make it.'  If you don't give it a go then you will always wonder in the back of your mind," Dalhausser stated. "But give yourself a timeline. After college, I told my parents give me two years to be successful in beach volleyball. If it didn't work out, then I could always fall back on my degree," he elaborated. And just like that, a star was born. 
Starting from the beginning of his career to the end of this year Dalhausser has exactly 100 career wins and has traveled to about 25 countries. Dalhausser noted "My favorites have been Switzerland, Norway, and Holland." Nothing in his career was ever like this past year, although most everyone can say that we are yet to earn our gold medal. I vote we should leave the talking to the Olympian. "This Olympics was really strange, especially for me. I happened to sit in front of another athlete on our way to Tokyo who got tested positive for COVID which put me in close contact quarantine!" he exclaimed. "I sat in a hotel room for two weeks. After five days of sitting in the room they finally let me practice. It was a very frustrating experience," Dalhausser admitted. Luckily, he stated a factor that stayed sturdy throughout the world of the pandemic, which would include his training. Dalhausser revealed in this exclusive interview, "I wouldn't say I trained any differently other than more conditioning because I'm 41, and as you get older you have to work a little harder in the cardio department," Phil joked. 
Now that Dalhausser is retired and has rightfully earned some time for himself and his family, he has taken his skill and put it to use with children who share the same love and passion for the sport that he does. Dalhausser has started a beach volleyball academy in Lake Nona. "I have moved on from being a pro beach volleyball player and started the Phil Dalhausser Beach Volleyball Academy. The sport has been good to me so I want to give back and build a beach volleyball community in Central Florida," Phil expressed. Not only does Phil share a love for the sport, but he also shares compassion for people in general. He added, "Not only do I want to coach beach volleyball, but I would like to change the mindset of the kids that come out to play. I find that a lot of kids are so negative about themselves. I think you have to be your biggest cheerleader. If you aren't, then who will be?"
Now that we have all it takes to become an Olympian, you can find me on the court preparing for my gold medal. Of course, I will be wearing that to school along with my Dennis polo. Nonetheless, I have learned that when you set your eyes on a goal that seems like it's on the other side of the court, you have to put in that extra effort, which will eventually lead to winning your way to the top… A.K.A. being Phil Dalhausser at the Olympics.