Raising the Roof "For The Kids"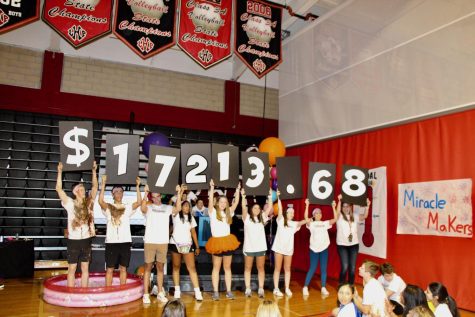 Revitalizing traditions is key to bringing us together as a community, especially for a good cause. Dance Marathon's time at Lake Highland, though short, has been doing just that for the past several years. Highlanders have become so involved in the cause that it is now a nearly all student-run event.
When students and alumni of Lake Highland discovered Knight-Thon, the University of Central Florida's Dance Marathon, they were inspired to create a similar atmosphere here on campus. According to Ms. Katie Gallagher, it has truly turned into a group effort: "A couple of them have older siblings or friends that have done or been a part of it and realize how special it is and something that a whole community can come together and do." Ms. Gallagher has been the advisor for Lake Highland's Dance Marathon for several years and is tasked with the preparation for the event as well as selecting the leadership team. Since then, it has become one of the most anticipated moments of the school year and serves as a reminder of the immense support that these patients have.
The COVID-19 pandemic has made participating students even more eager to spread awareness and make Dance Marathon even more memorable. "We have a group of Upper School students that are the leaders and then some others who are helping in our different committees," Ms. Gallagher stated. She also elaborated on the importance of this year, with the fundraising goal being $22,000 to represent 2022. Despite the high goal, she is confident that, "This group of leaders is very driven to achieve the goal and raise it for the kids."
It is no surprise that students have taken notice of this year's Dance Marathon, as Ms. Gallagher and the student leaders have been building up excitement for the event on social media, most notably through their Instagram account @lhpsdm. You may have even seen their colorful promotional posters all over campus. Grey Chapin and Ainsley Myers, both grade 12, are on the leadership team, which is comprised of a group of highly motivated Juniors and Seniors. They have been actively organizing the event in hopes that it will be even more successful than in past years. Being at the forefront of Dance Marathon has been a highlight of their Senior year, and they say that the collaboration of the Senior class is what ultimately makes it special and worthwhile for the children.
While the anticipation surrounding Dance Marathon is growing, it is essential to recognize the root of the cause. Started in 1991 by students at Indiana University in order to honor the memory of their friend Ryan White, a victim of a faulty blood transfusion, the marathon has transformed into a national fundraiser for children who are patients at the Miracle Network Hospital. When talking to Ms. Gallagher, she reminisced on a particular moment she is looking forward to recreating this year. She emphasized, "Meeting the Miracle children and hearing their stories is the most important and the best part of the dance. Their energy, positive attitude, and great outlook on life make all the hard work worth it."
Highlanders strive to see Dance Marathon as a positive opportunity. Ms. Gallagher explained, "Our event is more of a celebration. We will have activities, dancing, music, Miracle children stories, food, and tons of games." This goes to show just how much our community's efforts can greatly impact these children's lives for the better as they get a chance to enjoy some time away from the hospital. Grey Chapin also emphasized how even though Lake Highland's Dance Marathon will last for about three to five hours, and is a shortened version of the original event which lasts 24 hours, it will be nothing short of a fulfilling experience for all.
Dance Marathon is nothing new to the Lake Highland community, but after a few years without it, it will definitely bring back the high-spirited and compassionate student body that defines our school. It is clear that our dedication to service will truly shine through this year in more ways than one. After all, we're doing it "for the kids!"