Working Hard on a Daly Basis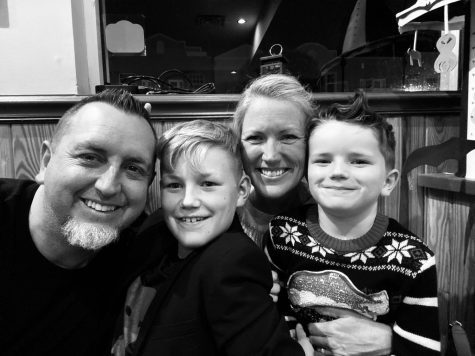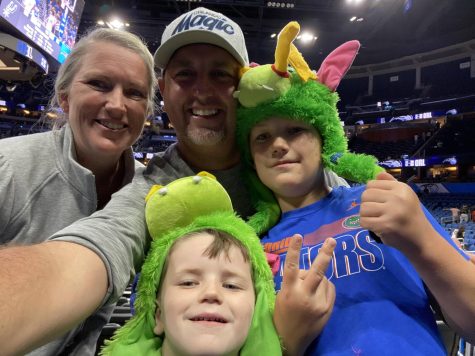 When walking to class, have you ever wondered how Lake Highland runs so smoothly? It's something that many of us usually take for granted. Administrators like Mr. Derek Daly, among others, put in hours of unseen effort to make sure Highlanders get the most out of their school experience—both in the academic and extracurricular realm. Apart from crossing paths with Mr. Daly, with a big smile on his face, of course, many students don't know what goes on behind the scenes. 
Mr. Daly was born in Ireland, and his family immigrated to the United States when he was six years old. Mr. Daly notes, "They had to work extremely hard to be successful in the United States,… [and also] put my sister and I in private schools to further our education and give us great opportunities." The same is true for many Lake Highland immigrant families who've worked tirelessly and made sacrifices for their children to become Highlanders. In fact, Mr. Daly recalls that, "My mom, at one point, worked three different jobs at one time to provide for us." This is emblematic of the hard work Mr. Daly puts in to ensure Lake Highland's Upper School operates as smoothly as possible for every student.
Years before starting his journey in education, Mr. Daly received an undergraduate degree in history from the University of Florida, "Go Gators!" When he met his future wife, Mrs. Katy Daly, at UF, Mr. Daly was inspired to pursue a career in education after observing her experiences in UF's education program. Realizing his love for being a camp counselor and interacting with children, Mr. Daly, "Took [his] passion for history and became a teacher." By completing a Master's Degree in Educational Leadership at Stetson University, Mr. Daly has pursued a larger voice in the day-to-day operations of schools because of the support he can provide for all faculty, staff, students, and parents. Mr. Daly's passion for developing future leaders makes being around students all the time his favorite part of the job because seeing, "Them throughout the day and supporting them in arts, athletics, and co-curricular activities is a lot of fun for me!"
 On a casual day, Mr. Daly typically arrives at campus at 7:00 A.M. in order to, "Catch up on emails" and free up time to be able to, "Walk around campus as teachers and students begin to arrive for their day." However, it's important to understand that working in Lake Highland's operations, takes Mr. Daly, "In so many different directions throughout the day. It is never easily predictable about the things that my team might have to work on any given day." Being able to tackle different challenges presented on a Daly basis, sometimes with not much warning in advance, is crucial to ensure campus-wide success. Since Lake Highland has a diverse student body that participates in a wide range of activities, from sports and arts to community service, it's common to find Mr. Daly ending his school day by attending an LHP special event. Most importantly, Mr. Daly notes, "The last thing I love to do at the end of the day at home is to tuck my two sons into bed."
The most difficult part of Mr. Daly's job has recently been the implications of the Coronavirus pandemic on student safety on campus. Most recently, many schools in the Central Florida area have gone online due to the Omicron variant, but Lake Highland's administration has emphasized the importance of safe and face-to-face learning by trying their hardest to keep students on campus. From reintroducing a mask requirement to including a mobile COVID-19 testing site on campus, Mr. Daly explains that COVID-19, "Takes a great deal of time and always amounts to extra anxiety and frustration in people… no matter what the situation." 
Apart from COVID-19, one of the biggest projects Mr. Daly and Upper School administrators have been working tirelessly on is the Porter Family Center for Innovation and Academics. Though it will take time to see its fruition and won't be built for the coming semesters, Mr. Daly says, "It is something that we can all really look forward to. We are going to see a lot of exciting energy on campus as we move toward the building of this state-of-the-art facility." 
When not immersed within the Lake Highland community, Mr. Daly finds, "Incredible joy in spending time with my family." From traveling and playing games to biking and having fun with the dogs, "We love to adventure together and try to make each day memorable," he adds. Indeed, Mr. Daly's favorite place to spend time with his family is the beach. Whether it be erupting with the rest of the crowd in PJs for Lake Highland Varsity Boys Basketball's 10th point on Silent Night or dressing up as an elf for the Senior Christmas Luncheon, it's also special that Mr. Daly's whole family is part of the Lake Highland community. He concluded, "I love randomly seeing my sons on the playground or on stage performing at a show. I get to drop by my wife's classroom and say hello occasionally. I really love it!" And because Mr. Daly really loves his job, LHP really loves him and his work.