Female-Run Shop Gifts Smiles
An eye-catching, hot pink contemporary boutique is the latest to join the rows of small businesses that thrive in Downtown Winter Park. Located off of scenic Park Avenue on 106 East Canton Avenue, GASP is the go-to destination for everything trendy and colorful. It's a place that is ideal for locals to buy gifts to make their best friends, "Gasp" in delight, as well as to stock up on the trendiest accessories and home decor that are often sold out online.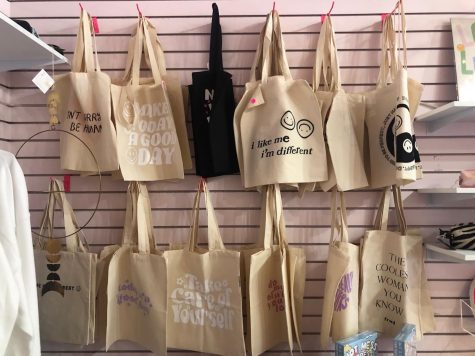 Products from GASP are bound to make others ask, "Where did you get that?" Owned by Winter Park native Julianna Vargas, who opened GASP's doors last May, GASP has become a boutique that encourages positivity and smiles with its products during the ongoing pandemic. It also supports many online small businesses by selling their handcrafted products.
Before she opened her local small business, Vargas was uncertain of what to do with her degree in hospitality, having recently graduated from Florida State University in May 2020. Because of massive closures under the pandemic, she was unable to obtain a job in hospitality. So, Vargas made the decision to move back to her home in Winter Park. During the pandemic, Vargas reflected on her experience as a small-business owner in college, where, in her Senior year, she, "Started tie dying and bleaching college t-shirts from Goodwill and selling them on Etsy as gameday shirts." This helped create the idea for GASP. Vargas explained, "I continued to do this after I graduated, and that's when I realized that there were so many cool small businesses out there selling unique products that no one really knew about. When I started thinking about opening my own store, I knew I wanted to fill it with all the really unique products I had been finding from small businesses."
Vargas also reflected on family and her childhood memories in Winter Park and realized that something was missing. Recollecting on her past she notes that, "I lived in Winter Park pretty much my entire life and have spent a ton of time coming up to Park Ave. with my little sisters. When I graduated and moved home I realized that there were not very many stores on Park Ave. that catered to younger people, definitely not much for my high school aged sisters." That's when the idea sparked for her to open her own store for young people. After about six months at home, Vargas was confident in her pitch for GASP and believed that the Winter Park community would favor a shop that specializes in new and trendy goods for the younger generation. Locating the shop in her own hometown further helped bring these ideas to life for her local community. 
Vargas not only wanted to help her local community by establishing GASP, but she also founded the shop to provide support for other online, women-owned small businesses that needed the support during the pandemic's difficult toll. In GASP's vision, Vargas chose to source her products from small businesses online since she believed that their unique products are more appealing and are harder to find than items sold in brick and mortar stores—or by major companies. Because these small businesses are limited to online customers, she believed that she could make a difference by expanding their market and customers. Sourcing a large variety of products from many different businesses is not only very important, but also fun for Vargas because she gets to, "…Support hundreds of small businesses all in one place!" 
Products that are typically found at GASP include keychains, candles, stationary, and sweatshirts. Because of Vargas's business model, GASP boasts that their products are difficult to find elsewhere in-person. An example of this would be their best-selling phone charms, which are keychains for phones. GASP was one of the only stores that sold them in-person, since, at the time of their release, phone charms were new and mostly selling online. In fact, new inventory is one of Vargas's goals in maintaining GASP. She receives new products every day in order to keep the store updated and fresh with the latest trends.
Since its opening, GASP has received mostly positive reception and success. As founder, cashier, and social media manager, Vargas currently runs the business on her own, along with support from friends and family. Vargas believes that GASP has developed a much-needed space at the right time. She adds, "I also think opening such a bright, happy store in such a dark time helped us too. So many customers tell us that they love the vibes in GASP or that they love how positive everything is, which I think is definitely what [we] need with everything going on in the world right now!" Vargas's business continues to grant smiles for her customers, other small businesses, and most importantly, her community.
For more information on GASP and their products, you can follow their Instagram @gaspwinterpark.