Highland Stars Level Up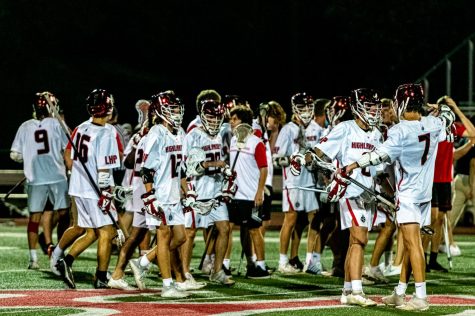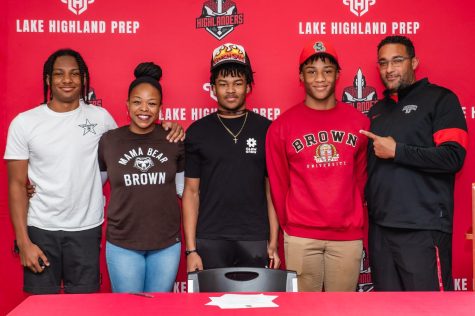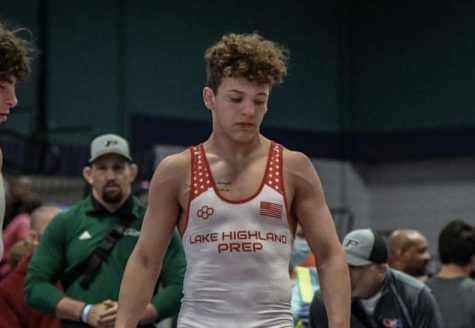 For every high school student, college admissions are commonly one of the most stressful, yet exciting times. Lake Highland is known for being one of the most academically and athletically rigorous schools in the country, having countless sports teams highly ranked. This year's athletic success is one for the record books as Lake Highland has collected Citrus League and Sunshine State Athletic Conference championships. According to data compiled by Lake Highland Preparatory School Athletics, "Approximately 10% of Highlander Seniors are being competitively recruited by colleges to play at the next level." Currently, seventeen Seniors and two Juniors committed to playing collegiate sports, and over seven additional Seniors are being actively recruited. 
While LHP athletes definitely focus on their performance in their respective sports, they also care significantly about their performance in the classroom. LHP Athletic Director Mrs. Charmaine Schreiber commented on how LHP prepares student-athletes for future success, saying, "We strive to prepare our Highlanders to be the best scholars, teammates, and collaborators, so they are powerful contributors to their classmates, teammates, colleagues, families, and communities." All LHP student-athletes have unwavering determination, time management skills, and talent, making them champions on and off the field.  
While many students choose to focus on one area to excel in, LHP's Class of 2022 definitely consists of some of the most well-rounded student resumes. Mr. Sam Miller—football coach, LHP Campus Safety Officer, and, more importantly, father of brothers Solomon, grade 12, and Sami (Class of '21)—space finds LHP to be crucial in developing his sons' key skills. He explains that, "LHP prepared them for success, as time management and study habits learned have been key."
All student athletes set goals for their success outside of athletics. For instance, Mya Wood, grade 12, explains that off the volleyball court, her future consists of, "Majoring in biochemistry. I want to be a pediatrician one day so I will be studying in the science and health field." Additionally, Princeton University recruit Eligh Rivera (Class of '23) and Brown University commit Solomon Miller, grade 12,  have similar goals. Eligh is currently debating on majoring in engineering or business, and Solomon is preparing to pursue an education in engineering. Not only do these stars shine while playing their sports, but they excel and have high goals for their future outside of athletics.
These athletes' careers didn't start overnight, but they developed over several years. A common theme with all these standouts was their love of and passion for their respective sport; although their reasons for starting to play are slightly different. Solomon provided insight on his football career, explaining that he has been playing football since he was five because of encouragement from friends and family. Mya, an outside hitter and Senior leader, recalls her first volleyball tryout: "As soon as I touched the court, I fell in love with the game, and I stuck with it ever since. Now I've been playing it for 12 years." Eligh, a focused and determined Junior class wrestler began competing at age seven years old. "I always had a lot of extra energy when I was little so my parents thought wrestling would be a good idea," he said. As for Lacrosse Captain Trent Griffies, grade 12, he began his career in fourth grade to have fun with his friends and enjoyed the fast-paced nature of the game ever since.
When it came to finding and choosing which college to go to, these Highlanders all considered some of the key factors of location, academic quality, school size, campus environment, and athletic culture. Each chose the best path for them, one that will help achieve all their goals—from the Ivy League, Division I, state schools, liberal arts colleges, and public institutions to everything in between. According to Solomon, he, "Decided to choose Brown University because of the genuine bonds I built with not only the coaches and players but also the amazing opportunities Brown will provide for my future. The academic system and Providence are also two characteristics that made the choice a no-brainer for me." Trent also chose to commit to Barton College because of its location in North Carolina. 
When a potential recruit walks on campus, feels welcomed, and can picture themselves growing and adapting to their fullest potential, there is no question that school is the right fit. Mya Wood felt at home in the lab rooms and dorms at the University of North Carolina Greensboro, and she can't wait for the experience ahead of her. Everyone's dreams can come true. It just takes the motivation to work hard and the determined attitude to chart the course and stick with a plan.
Eligh notes that, "Princeton has always been a massive goal for me ever since I was little because it's the number one school academically, and they are also top 20 in the country in wrestling." Eligh's talent has made his dream an achievable goal. Solomon provided advice to athletes having a tough time deciding where to attend college, explaining that, "I think athletes should not only go where they want but where they are also wanted."
Being a collegiate student-athlete is no small achievement. It takes a great deal of time, effort, stamina, and an innate ability to know how to maneuver through challenges that arise on the arduous journey of competing at the next level. Basketball coach Mr. Ben Fratrik commented on how coaching LHP athletes challenges him, noting, "As a coach, it's fun coaching kids who want to continue their career at the next level. The discipline, toughness, and commitment required to be a college athlete isn't something you can fake. So helping our players get ready for college sports is a fun and unique challenge." These student-athletes perfectly encapsulate the important characteristics of what it means to be a Highlander: grit, tenacity, and perseverance in order to achieve your dreams.