Creating a Better Tomorrow Today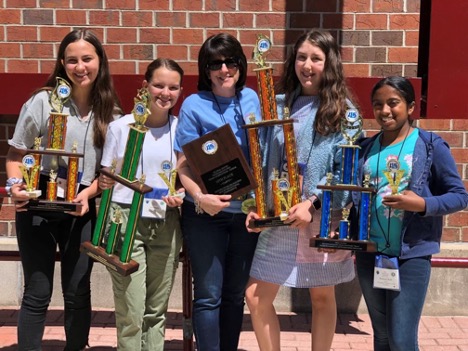 Lake Highland prides itself on offering many different clubs so students of all ages can find their passion. However, Future Problem Solvers is the only club that works on creating solutions to potential problems that could plague the global world 20 years in the future. Some of the topics that have been tackled by these outside-the-box thinkers and doers have been insects, mining, gamification, coping with stress, de-extinction, philanthrocapitalism, cloud storage, food waste, and many more. Future Problem Solvers (FPS), a program catered to grades 4-12, is one way that students can exercise their problem-solving skills. The international program involves thousands of students from more than thirty-six states and seven countries to help the younger generation achieve positive futures through problem-solving, as well as critical and creative thinking.
 At LHP, there are 45 students currently involved in an event of FPS. Mrs. Kathy Barbay, a Florida FPS Board Member, head coach of the LHP chapter of the FPS organization, and retired 5th-grade teacher, explains that FPS is beneficial because, "Students become stronger creative thinkers, more capable writers, and confident presenters. Future Problem Solvers helps develop the essential skills that allow students to work on a team, listen to others, and write a formal business plan in great detail." The most popular event that most participants compete in is "Global Issues Problem Solving," in which 38 Highlanders competed for the 2021-2022 qualifying problem, and 36 will be moving forward to the state affiliate bowl. In this event, students must find 16 potential problems from a given futuristic scene and come up with a solution in the form of a business plan. 
Other competitive events include scenario writing, in which the writer must create a futuristic story based on the four topics provided every year. Scenario performance is another event where students must write and perform a script based on the topic they chose; and community problem solving, where students must go out to find a real-world problem in their community and come up with a creative solution. "I love this program because it offers something for everyone. Students have different strengths. Some are better problem solvers, some are better at creative writing, some are better storytellers, and some students want to solve a current problem in their community," said Mrs. Barbay.
Mrs. Barbay brought the program to LHP in 2010. Mrs. Barbay explains that she, "Was introduced to the FPS Program during my Gifted Endorsement classes, [and] thought it would be a terrific way to teach research skills, critical thinking, collaboration, and problem-solving to our younger students." Over the 10 years that Mrs. Barbay has been involved with the program, FPS has changed and grown in many aspects. Scenario performance, one of the most entertaining components of the program, was added just six years ago, as a way to, "Preserve the art of storytelling," according to Mrs. Barbay. All competitors participate in their district's qualifying problem, in which schools from each district compete against one another to qualify for the Affiliate Bowl, or state competition, which is located here in Orlando. 
At states, students compete for their chance at going to the International Conference. Usually, the two highest placing competitors from each event are invited to the International Conference, held at a different collegiate institution every other year. This conference is a favorite of competitors, coaches, and parents alike. Mrs. Barbay explained why she looks forward to the annual International Conference, adding, "Seeing our students as young as 5th grade meet approximately 2,000+ students from all over the world including Singapore, Australia, Malaysia, England, etc., is a super cool experience." She loved, "Watching our students collaborate with students who they thought were very different, only to find out they are so similar to each other." 
Although Mrs. Barbay has coached her teams to victory for over 12 years, the 2021-2022 school year will be her final year serving as a coach for LHP and district chair. Mrs. Ingrid Grenci, Lower School Counselor, and Ms. Lauren Jones, grade 5 teacher and department chair, are acting assistant coaches in the program and will be continuing to get as many students involved as possible. Mrs. Grenci has been coaching FPS for eight years, while Ms. Lauren Jones started coaching three years ago because Mrs. Barbay was her fifth-grade teacher—and Ms. Jones knew how much she loved the program. 
At the upcoming state competition, all LHP Seniors involved in FPS will be recognized for being a part of FPS. Alex Russell, an LHP Senior and FPS member since fourth grade, reflected on some of her favorite FPS achievements, explaining, "My favorite memories are winning states in fifth grade and last year as well as winning 3rd place at Internationals during my Freshman year." Although Alex and her team, which composed of her sister Maddy Russell, grade 12, Fiona Ireland, grade 12, and Ethan Brown, grade 11, achieved great success within their time in the program, their real success came from the friendships formed during their time competing, as they were able to travel to Massachusetts, Iowa, and more. "Though I am grateful for the success I have had in FPS, what I will ultimately remember most and be most grateful for are the amazing friendships I have made throughout the years," Alex shared. The lessons learned from taking part in the FPS program are invaluable and the benefits gained will prepare students for tackling more difficult college material and life situations where critical and creative thinking will be essential for success.