Varsity Softball Hits Off a New Season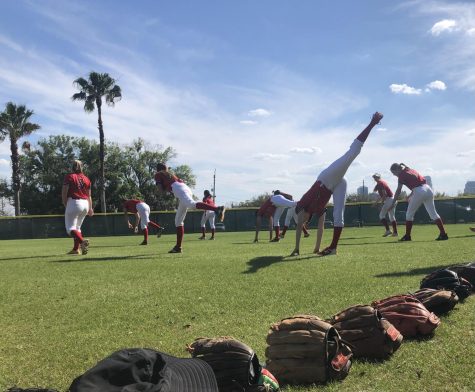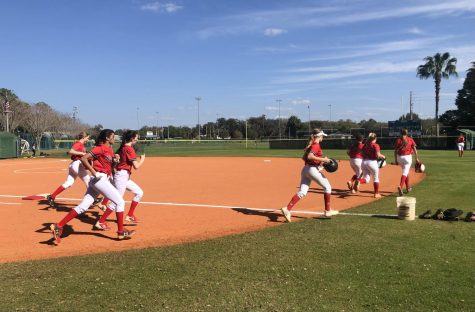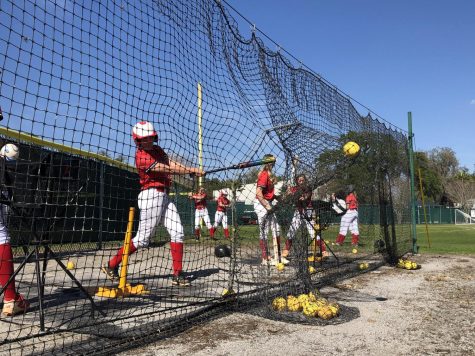 As the spring season quickly approaches, the Varsity Softball team is already one step ahead. Starting as early as January 2022 with tryouts, the Varsity Softball team at Lake Highland Preparatory School has once again returned to the home base—ready to compete for another season. Whether or not you may have attended a game or passed by the team as they practice, the Varsity Softball team is eager to win, and they're more than willing to put in the work to do it.
For the team, practice is a crucial part of preparing for their competitions. At the O'Meara Softball Field, a typical practice begins with completing a series of team stretches and joining in pairs to warm up hitting the ball. Because the team has a consistent routine to warm up, the rest of practice largely depends on how they are performing at that moment. Especially the day after a game, the softball team reflects on the highs and lows of the game, taking into consideration what they can work on to improve for the next game.
The coach of the team, Coach Scott Schenker, stresses the importance of communication and reflection at practice, debriefing the team on any games the day before and providing helpful feedback after what he observed from each game. Many of the team's practices are designed based on how the team has been competing with many of the various drills carried out during a single practice targeting specific abilities which could be improved on from the last game. Oftentimes when they aren't competing against other schools, the team participates in inter-team competitions. These competitions aren't so much focused on skills, but morale—specifically working on boosting aggression and determination on the field. For the team, being an athlete means not only practicing the skills necessary for competitions but also bringing the right attitude and mindset onto the field.
It is this value of supporting each other and bringing a positive mentality each day that Coach Schenker likes to emphasize when he's with the team. With one of the team's core values being family, Coach Schenker explains how, "We are a family, and we will help each other in everything we do whether that is on or off the field." Creating an environment where these young athletes can help strengthen and lift each other up, the team finds it critical to discover who they want to be to the world and what type of legacy they want to leave behind. This close community of support and respect is what Coach Schenker likes so much about the sport, which is why he notes softball, "Has taught me so much about life in so many different ways and at the same time is something that will always be fun and enjoyable." 
With the season just starting, Coach Schenker explains that with the team's diligence and strong schedule, they are already using what they have learned about each other's strengths and weaknesses on the field. "We have a team that is very cohesive on the field, and this will help us win games. We have a lot of speed, and in a game that is on a small field, it makes us dangerous as we can do many different things to produce runs."
Although the team is fairly new this year with it consisting of both returning and new players of all ages, everyone on the Varsity Softball team is a valued member. Although some of the athletes may be young, Ellie Hartsgrove, grade 12, emphasizes the fact that, "Their age does not necessarily equate to their experience." While the team has not had much experience competing together, many of the athletes have been playing for years now and know the ins and outs of the game. With the team's strong environment of support and camaraderie, this season appears to hold a lot of learning from each other as well as motivating each other to do their best. Juliette Benoist, grade 12, has already noticed that, "Everyone tries hard and works because we all want to win and have a successful season."
While winning games is the goal in softball, by the end of the season, the team itself is most important above all. From what he has seen already this year, Coach Schenker explains how, "We have a range of personalities on this team that always keep each practice interesting. It makes for a good day, every day." Like many of the other team members, Benoist explains how she hopes that, "Our team and the girls on it are close and happy they decided to play on it this year." Although the team hasn't played together for that long, many on the team are hopeful for a good season with Benoist explaining, "We have a lot of potential and talent on our team, and I believe that if we work together, we will succeed."