From One Campus to Another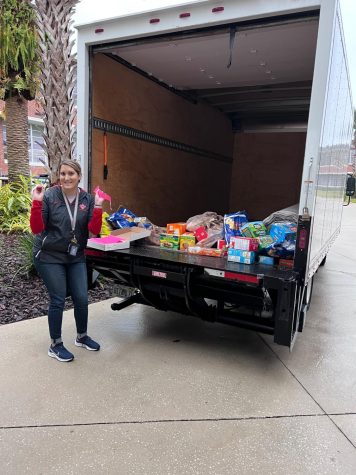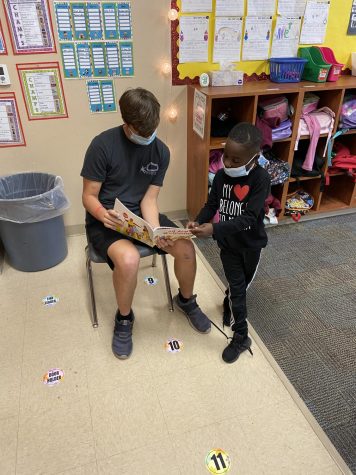 While Highlanders are familiar with the annual "Heart of A Highlander Day"—a time when Lake Highland students and faculty serve at local charity partners in Orlando—many are not familiar with the backstory of another major way the school reaches out to its community: helping Ivey Lane Elementary. For the past five years, Lake Highland has partnered with Ivey Lane Elementary, a local Title 1 school that has received a generous amount of donations of food, clothing, and school supplies from Lake Highland over the years. In addition to providing Ivey Lane with donations through recurring donation drive events like the "Bag of Thanks" and "Share a Snack Day," the leadership class at Lake Highland also regularly visits the school to interact with students and faculty. Lake Highland's support for Ivey Lane is an exceptional example of how the school expresses one of its Christian values: kindness. The Fruit of the Spirit's goal of, "Using encouraging words, helpful actions and sincerely appreciating and nurturing everyone's unique abilities" is clearly demonstrated by Lake Highland's support for Ivey Lane. It is a testament to commitment towards service in the local community.
Lake Highland's partnership with Ivey Lane began with former alumni Bryan Hardy (class of '07), who previously worked at Ivey Lane and asked Lake Highland if they would be interested in partnering with and volunteering at Ivey Lane. Ivey Lane is a Title 1 school, which means it works with a system that provides additional resources, such as parent involvement activities, extra time for teaching, and professional development, to raise student achievement among economically disadvantaged students. Ms. Katie Gallagher, one of the coordinators behind the partnership with Ivey Lane, explained that, "The students are 100% breakfast and lunch, meaning each student gets free breakfast and lunch every day. That is the background of the school. We see a relationship in mentoring the students, by building relationships, helping work one on one with students and being an extra hand for the teachers. The teachers are on a strict schedule, and the students have testing weekly."
Many of Lake Highland's efforts to support Ivey Lane are through the leadership class. The class, made up of mostly Seniors who went through DARA and Blackwatch, prepare, bring, and organize weekly activities for the students of Ivey Lane. Many activities include themed parties for special occasions, like the Valentine's Day Party and Easter Egg Hunt. Other activities are academic, where students from leadership would act as KILTS or teacher assistants, helping teach basic math, reading, and writing skills in groups. Many of the faculty members that work at Ivey Lane are grateful for Lake Highland's leadership class to help assist in teaching. "Without us, their job would be hectic as many teachers [have] quit throughout the year from not being able to deal with the kids. The kids love having us there and would show off new things they got or skills they've learned," says Josh Webster, grade 12, who frequently visited Ivey Lane on Wednesdays. Many of Ivey Lane's students and faculty are in more need than ever before because of the ongoing pandemic.
Students from leadership are also responsible for conducting the numerous donation drives Lake Highland holds each year. Highlanders can easily recall the "Bag of Thanks" fundraiser, where every Thanksgiving, every second period class gathers canned Thanksgiving food, supplying Thanksgiving meals for every student at Ivey Lane. There's also "Share a Snack Day," in which Highlanders provide over 20,000 individual snacks to Ivey Lane's food pantry for the entire year. Furthermore, the leadership class partners with the Lower School for a Christmas donation drive, where they supply every student at Ivey Lane with a Christmas gift of two pants, two shirts, one jacket, an underwear pack, a sock pack, and an age appropriate book. Josh adds that, "It was fun to see how excited the kids were to get the presents. Even though all they got were clothes and a book, the amazement on their faces told me that I should be grateful for more."
Partnering with Ivey Lane has changed the way many Highlanders have thought about their own lives based on their experiences at the school. The reception from the teachers and students at Ivey Lane has been nothing short of joy, and their stories have genuinely inspired Highlanders. Olivia Bledsoe, grade 12, from the leadership class, explained that, "Ivey Lane taught me so much not only about the real situations some kids have to survive in but also how influential we can be as volunteers in their development socially and academically." Olivia's experiences have even inspired her to write her college essay based on a first grader at Ivey Lane named Benji, because she learned so much from his life struggles.
Visiting Ivey Lane on a recurring basis has made students from the leadership class very appreciative of the things they have, inspiring them to take on similar opportunities in the future as both leaders and mentors. Ms. Gallagher believes that more students at Lake Highland should consider helping those who are less fortunate. She adds, "I fully believe this is one of the best things LHP students get to participate in. The joy the students show when our students visit each week is unexplainable. They build bonds from day one and create a relationship that betters our students and theirs. Service learning is something you can't teach. You just have to do and try, and having these opportunities for our families builds comradery within our school for a greater cause!" In the years to come, Ms. Gallagher hopes to give other classes a chance to experience Ivey Lane like the leadership students do.